Landreform Carousel
with Matthias Einhoff, Philip Horst, Markus Lohmann, Harry Sachs
5th berlin biennial for contemporary art, KW Institute for Contemporary Art
Night event on June 10, 2008

Videos >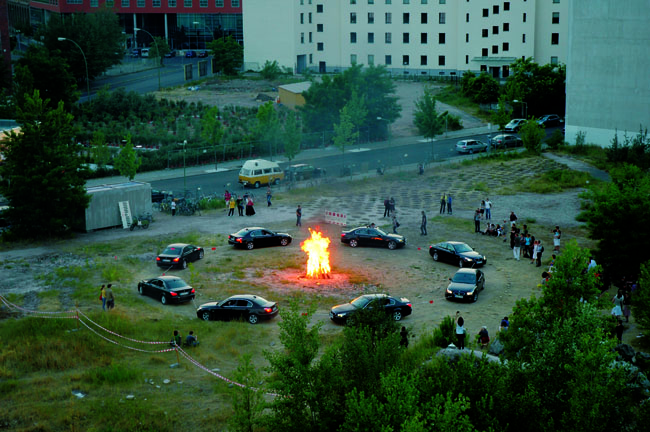 Eight BMWs, the sponsor of the berlin biennial, drove in a slow perfect circle over a vacant lot of downtown real estate. "This Land Is Your Land", sung by Woody Guthrie, was broadcast over their radios, remixed for an amusement ride sensation. The cars, fixed together in a carousel, circled like an auto display or a western wagon train. Every couple rounds the drivers stopped at the end of the song to drop-off and pick-up spectators. Just before dusk, a fire was lit inside the circle.

In the 1970s, the BMW was once the preferred auto of the left-wing urban guerrilla movement, Red Army Faction. The acronym shared the initials of the group's prominent leaders, and the car was so coined, Baader-Meinhoff Wagons. While this tale of "ironic" appropriation is an aside, it set up the ideological counter to BMW's corporate vision and interest in cultural sponsorships. In the carousel, the banality of luxury drives in a circle of economic predictability upon a ground which will soon be predictability developed with luxury condos and office buildings. Without any art object in the foreground or background, the sponsorship and participants themselves were on display. From the other side, inside the car, viewers could contemplate the privately owned, questionably used, and bucolic land of Skulpturenpark, all in the sleepy comforts of luxury.

Many thanks to Dionisis Kavallieratos, Tim Schober, Miclos Palos, Reingard Ebner, Michael Böhler, Konrad Braun, Tino Werner, Anke Kalk, Axel Gerber, Julia Kapelle, Simone Häckel and Rebecca Riedel.

biennial sponsored BMW